The city of Golpayegan in northwest Isfahan province is located in a plain surrounded by high mountains.
Though it has cold and dry climatic conditions, Golpayegan's main activity is farming.
Historians attribute human settlement in Golpayegan to Paleolithic and Neolithic ages. The discovery of rock engravings as well as relics such as mace, bow and arrow, lasso and ancient musical instruments is a proof of this.
After the attack of Arabs, Gopayegan was ruled by Omayyed, Abbasid, Saffarid, Deylamite, Seljuk, Khwarazmian, Mozaffarid and Ilkhanid dynasties respectively.
Golpayegan suffered destruction during the Mongol invasion, but emerged as a prosperous city in the post-Islamic era. 
Pride & Plunge
The city thrived during Seljuk Dynasty, particularly the rulership of Mohammad bin Malekshah who ordered the construction of many monuments such as a minaret, bazaar and Jame' Mosque.
Later, Golpayegan thrived, as the Hamedan-Isfahan commercial route passed through it during the ruler of Ozoun Hasan, from Aq-Qoyunlu Dynasty. Many caravansaries were established there.
The city's golden era was concurrent with the rule of Safavid Shah Abbas and the governorship of Emam Qoli Khan.
With the start of Afghan sedition, Golpayegan, which was the command post of Bakhtiari Commander Ali Mardan Khan, was attacked by Mahmoud Afghan.
Many people were killed and most monuments, agricultural installations and aqueducts were destroyed.

Jame' Mosque
The 900-year-old Jame' Mosque is one of the most famous buildings of Golpayegan.It was built in 523 AH (1102 AD)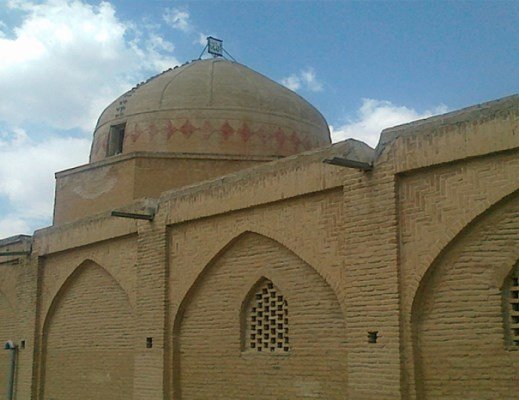 .
Its dome has a height of 22 meters. There is a pool in the middle of the courtyard.
It was repaired by French Architecture Andre Godard in 1931.
Chaharsouq Bazaar
Chaharsouq Bazaar was established 400 years ago. It is bound to the city's minaret and Jame' Mosque.
The traditional bazaar of Golpayegan includes sections for coppersmiths, pottery-makers, carpet-weavers, makers of giveh (a traditional summer shoe) and many shopping halls.
Minaret
The 30-meter minaret, which is one of the tallest minarets, dates back to 5th century AH.
The 900-year-old monument has remained safe in spite of natural elements such as quakes, wind and rainfall.
Belonging to the Seljuk Era, the minaret was a landmark that guided caravans.
Pilgrimage sites
Imamazadeh Seyyed-os-Sadat is a pilgrimage site highly respected by the locals and visitors.
Imamzadeh Hefdah Tan is another pilgrimage site belonging to the rule of Shah Abbas in Safavid Era. It was built 400 years ago.
Golpayegan Castle
This township is located in the northwest of Isfahan province. To its west lies the province of Lorestan.
To the south are the townships of Khansar, Faridan and Najafabad.
Golpayegan can be said to be another ancient city of the country and was invariably known as Golbadegan, Jorbadegan or Golabadegan.
Other Attractions of Isfahan
Sultan Amir Ahmad Bathhouse is another attraction of Isfahan. The traditional public bathhouse is located in Kashan city on Sultan Amir Ahmad Street off Alavi Street.
The bathhouse was constructed in the 16th century during the Safavid Era. Though it suffered damage in 1778 as a result of an earthquake, it was renovated during the Qajar Era. It underwent further renovations in 1996.
The bathhouse is named after Imamzadeh Sultan Amir Ahmad whose mausoleum is located nearby.
The interior of the bathhouse is decorated with turquoise and gold tilework, plasterwork, brickwork as well as artistic paintings.
The roof of the bathhouse is made of multiple domes that contain convex glasses that provide sufficient lighting while concealing it from the natural elements.
The bathhouse has other sections as well, which were used for regulating the amount of water and its temperature.
In the past, the bathhouse was used as a traditional teahouse and currently serves as a museum.
In 1956, Sultan Amir Ahmad Bathhouse was registered as a national heritage by Iran's Cultural Heritage, Handicrafts and Tourism Organization.
Photo: Golpaygan Minaret
Source: Iran Daily